SUMMER HOURS
MAY - AUGUST
11AM - 8PM
FALL / WINTER HOURS
SEPTEMBER - APRIL
2PM - 10 PM
Call or text Dave for availability at 203-668-7649
38 Julie Lane, Eliot, ME 03903
| | | |
| --- | --- | --- |
| The Science of Baseball | Batting Cage | Bullpen |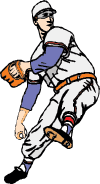 The Art and Kinetics in Pitching
There is no doubt about bringing solid individual instruction to our young athletes when we need "focus" and "concentration" to understand the complicated pitching and hitting motions.
Through video analysis we are able to piece the delivery together for the student/player and help distinguish possible flaws that could lead to potential injury or loss of velocity while throwing the baseball and loss of power when hitting the baseball. Players can also get maximum repetition, which is an essential part of the muscle memory training we need to become great baseball players.
Individual instruction is the absolute best program for learning the art of pitching. It is also an important tool in the development of our young baseball players in making the game easier for them by learning the fundamentals of pitching, hitting, and defense.
In baseball if we are pitching, hitting, or fielding, there are standards or benchmarks that the young player must grasp before he or she attempts to throw, pitch, hit or play defense.
In our Individual, small group and team instruction programs we also look to improve strength, flexibility and athletiscm. We incorporate this into the players regime to help reduce the risk of injury and also to speed up the kinetic process of becoming a great baseball player.

Dave Adam's Student Success Stories
Nate Jones




Matt Trainor




Tim Welch




Chris Anderson




Jordan Bean




Rosa Drummond




Jordan Foose




Ben Hart




John Mulvey

Our Three Objectives:
Improve Performance
Reduce the risk of injury
Have fun
To improve performance, you have to increase sport specific strength, speed, endurance, flexibility, and power. To reduce risk of injury we are sure to always warm up and stretch before we engage in any activity. We will also closely monitor hitting and throwing mechanics. We are proud to be in a quality facility where we can long toss to improve arm strength and take infield on a regulation baseball field. Boys in the young age group can play simulated games using flexi balls.
Preparation will lead to success!
We are proud to be in our fourth year in helping young baseball players improve performance both on and off the baseball field. We will continue to try and provide the very best possible instruction in New England. We love the game and will continue to promote our players to new levels each year.
Champions are made in the off-season!
Learn pitching and hitting from a ten year pro player. Each two hour clinic or 1 hour one-on-one lesson will help the student put the mental side of baseball together with the physical side. We will make the game easier by learning the proper fundamentals while using the proper mechanics. Lessons include video analysis of pitching mechanics to insure maximum performance.
Instruction From

David Adam: Seattle Mariners 17th round selection in the 1990 June draft; signed by scout Mickey White.
David Louis Adam. Graduated from Shelton High School in 1987, where he was an All-State selection in Baseball went on to attend Central Connecticut State and was named New England Pitcher of the year as a junior, member of 1990 Divsion I All-New England Team, started All Star game at Fenway Park. David began his professional career in Bellingham in 1990 and led the Northwest League in ERA (1.43) and complete games (4). Did not allow an earned run in his first 13 games, covering a span of 27 innings. In the 12 games he worked as a reliever he held opponents to a .099 batting average. In 1993 at Riverside, tied the California League lead in starts (27) and was third in wins (12) finishing 12-5. In 1994 at Jacksonville, was 6-10 with 74 K's, spent 1996 in Rimmini, Italy going 9-2 and pitching 9 innings in a 1-0 loss in Italian Championship game. In 1997 played for Mexican League Champion, Mexico City Tigres, finished the season 13-5 with a 2.85 ERA, spent final two seasons with the Bridgeport Bluefish. In 1999 led Atlantic League with 27 saves, and was a member af the All Star Team, threw the final pitch, as Bluefish won the 1999 Atlantic League Championship.
Professional Baseball Player, 1990-2000
Baseball instructor, 2000-2012
Refund Policy
All sales are final. Under certain circumstances of the player or their family, or representative, the following policies shall be in place.
Players and families or their representative shall cancel and reschedule any individual or private lessons only up to 24 hours of the scheduled meeting time.
A Non- refundable deposit may be required for any teams, clinics or camps. If this is the case the player may choose to withdraw from a team or camp or clinic and be refunded any lost sessions on a prorated basis or in full. This shall be done in writing and up to 24 hours of the scheduled start date of any program.